The course on racetrack is a unique opportunity to try the adrenalin rush of being driving in a real circuit, to improve driving style and to acquire more self-control.
Our main goal is the development of driving and technical skills of every participant, with the constant support of professional pilots all day long.
The instructors will show you the right trajectories, will teach you the right way to set bends at high speed and the correct driving position. You will try the excitement of high speed, always in safety, using all your potentialities.
The fluency of your driving will be improved and you will enjoy it.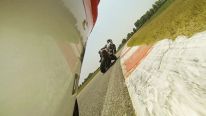 STRUCTURE OF THE COURSE
The course is divided into 8 groups of 4 participants and an instructor each. Every group will take part in more driving sessions for the duration of 20 minutes each.
The choice of small groups allows more attention and support during all the course.
The instructor will supervise your driving and will give you important advices during the break from one session to another.
DAZEROA300 will provide for this course MV F3 800 and F4 motorcycles.
ACCESS TO THE COURSE
Before the registration, participants will complete a questionnaire to state their level. In this way, we can create homogeneouos groups of work. The course has 30 places and you can access from the e-shop area of our website.
There you will find further information, Vairano racetrack regulation (click here) and registration terms through the compilation of a simple online form (click here).
It is necessary that all participants have valid driving license – type A – without engine size restrictions.
Technical clothing is composed by leather suit, integral helmet, gloves and boots.
It will be possible to rent technical clothing during course order or sending a request.
PROGRAMME:
Accreditation
Theorethical and dynamic briefing
Groups division according to the level of each participant
Maximum 30 participants – an instructor every 4 participants
6 sessions of 20 minutes each and breaks from one session to the other.
Conclusion of the course with certificate of attendance and group shot.