Brutale Basic Rider Course
COURSE DURATION: 1 DAY
The course will be developed as follows:
• Accreditation
• Theorethical and dynamic briefing
• Exercises
• Lunch time
• Exercises
• Driving session on track
• Conclusion of the course with certificate of attendance and group shot.
The course is structured in 4 different areas, each one with a specific exercise (such as slalom and braking). On a rotation basis, participants will execute all the exercise sessions. The main goal is learning how to manage the motorcycle in case of danger or rub and enhancing trust and control of the bike, to guarantee road safety.
Groups division:
Maximum 24 participants
A driving instructor every 6 participants (4 groups)
4 practical exercises
The use of slide bike and break bike is provided for some exercises.
Two innovative instruments fastened at the motorcycle and composed by additional frames and shock absorbers.
Thanks to these instruments, participants can simulate the correct position on the bike, without falling down.
They can bend motorcycle also at low speeds and reach the limit point, just like professional pilots.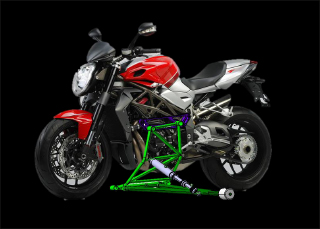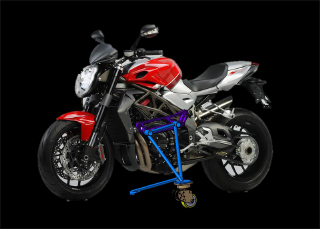 STRUCTURE OF THE COURSE:
The course has 24 places available and participants will be divided into 4 groups of 6 participants and an instructor each. Every group will take part in more driving sessions for the duration of 20 minutes each.
The course is composed by 4 different areas with a specific exercise for each one. All the participants will take part to every session of exercises on a rotation basis.
The choice of small groups allows more assistance and support from the instructors during all the course.
The instructor will supervise your driving and will give you precious technical advices during exercises and the break from one session to another.
The bike used during this type of course is MV BRUTALE 1090 ABS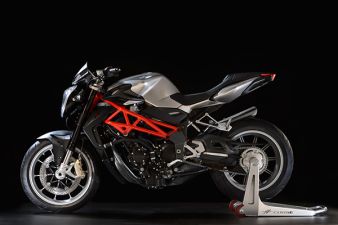 TECHNICAL FEATURES:
The most celebrated four-cylinder naked has been redesigned with increased charm, components and quality of finish.
In detail, the main features of MV Agusta Brutale are:
•    In-line four cylinder engine with two configurations of maximum power
•    Traction control adjustable on 8 levels
•    Modular frame with tubular steel trellis section and aluminum plates offering a high torsional stiffness
•    Single-sided swing arm with adjustable absorber
•    50 mm diameter inverted forks
•    Brakes with radial front caliper
The subscription at the Base Course is opened only at adults and it is not essential having the driving license for motocycles (type "A" in Italy).
Technical clothing is composed by leather suit, integral helmet, gloves and boots.
It will be possible to rent technical clothing during online course order or sending a request.
It is advisable to use your own personal helmet